Backup monitoring
You can find a good introduction on how to monitor your backup in the Getting started section.
Usage rule
The backup monitoring service is done to monitor a daily backup ! Receiving more than one backup report per day is not allowed ! However a slight overtaking is allowed to setup the service and its backup job.
Any constant overtaking will be considered an abuse.
Supported backup softwares
Configuration parameters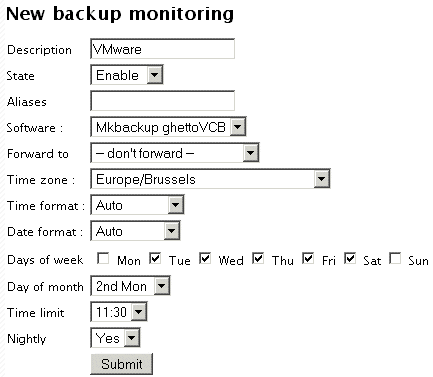 Description
This is the name of the service.
State
You can Disable or Enable the monitoring of the service to stop any alert.
Aliases
This is the name you give to your job in your backup application. This help to guarantee the good report is received by the good service. Keep this field empty to avoid the comparison.
It is possible to handle different version of the same job even if they have a different name ! The field support regular expressions. For example data-full|data-differential will match job having name data-full and data-differential or this expression backup-(mon|tue|wed|thu|fri) will match backup-mon, backup-tue, backup-wed, backup-thu and backup-fri.
Software
This is the software you use to backup your data. This allows MagiKmon to read the mail report using the good parser. Details about supported softwares are here.
Forward to
You can forward the email report to another person. This person must exist in your contact !
Time zone
This is the time zone of the host generating the mail report. This allow to convert time between different time zone and always display time at your watch.
Time format & Date format
Some backup software use the host regional settings to display times and dates. Because is impossible to know if 02/03 means 2 of March or 3 of February you need to help the parser with an hint ! Check our documentation about your backup software.
Auto should work most of the time.
Days of week, Day of month & Time limit
To properly manage missing reports and days without backup, and to avoid unexpected alerts, you need to tell MagiKmon about the scheduling of your backup.

For example if you setup Days of week to Tue and Time limit to 9:00 then at 9H every Tuesday, MagiKmon will check if the service has received a report during the last 24H. If not the service will switch to the failed status. If a valid email has been received for the last 24H then the service status depend on the status of this email.
Days of week and Day of month will be combined using a OR. To disable the missing report detection, don't select any day !
Nightly
If set to yes, a backup started at 23H on Monday or at 1H on Tuesday morning will be taken like a backup of Monday evening. If set to no both will belong to a different day. This help MagiKmon to adjust backups and days when generating reports.